A Veritable Cornucopia of Fun!
If I didn't have to work my day job I could post these throughout the day with glee.
Nick Denton
, I'm available for full-time work.
First, on a personal note, the movie
Miss Congeniality 2: Armed and Fabulous
opens today in movie houses all over the country (and world?). Don't go for Sandra, and don't go for
Elizabeth Rohm
(I'm sure so many will, simply for her
huge range of emotion
), go because my friend is in it! Speaking Role!
In deference to his privacy, I won't divulge his name - I'll wait for
Defamer
to expose his weekend coke-binge with Lindsay Lohan - but I'll say this, he jumps in a lagoon. See, now you have to see the movie.
You know, I'm the first one to stand up for the United Nations. Programs they have implemented have worked, and while they don't get it right all the time, I think they are really trying. I don't appreciate the current US administration always putting them down.
That being said, notice anything amiss with this picture of a meeting of the United Nations Security Council? What kind of research are they doing on their laptops?
I thought for sure this photo had been doctored, but there it is in all its glory on
Aljazeera.com
. [
Update 3/25/05: Aljazeera has taken the photo down, you'll simply have to trust me.
] I thought their abbreviations included U.N.I.C.E.F., but didn't know they also claimed T&A.
I'm still not convinced that Aljazeera didn't pull this picture from another site that messed with the picture . . .
[Thank you
Wonkette
, or whoever is filling in for wonkette these days.]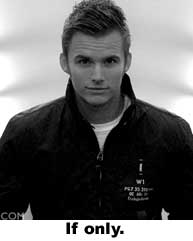 I've never been much into watching big cars race around a track really fast. As my sister might say, "That's not a sport, it's traffic." Actually, I think she did say that.
I never got into NASCAR, but it is sweeping the nation, and even though I may not appreciate the sport, I can appreciate the popularity and integrated marketing included within the sport.
I had only heard of the Indycar Series in passing, but I'm sure I would become much more interested
with the right persuasion
. Kinda makes
Jeff Gordon
(NASCAR) look like a pile of puke. Alas, I have a feeling that Dan Wheldon is of the wrong persuasion.
We all have our faults.