Because it Sucks so Good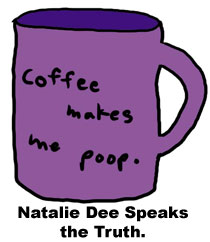 A few random bits...
If you are on a LCD monitor, and using windows, please
turn on your font smoothing
. You will never know how you lived without it. Why this isn't automatically turned on in windows I'll never know. [Wait, yes I do - because Windows isn't produced by Apple.]
These luggage tags
are much more attractive than that fraying red ribbon you have tied around the handle of your American Tourister.
Natalie Dee.
Artist. Dog owner. Drawings that make me laugh so hard I snarf milk up my nose. See such gems as "
Probably Not True
" & "
Grand Theft Uno
."
Shower Shock Caffeinated Soap
. Available in Tall, Grande & Venti. You have to love a website with "Caffeine" as one of its categories.
If you grew up watching MTV in the late 90's, you'll remember Sifl & Olly. If you were in college at the time, you watched their show at least once while completely stoned. Yes, you did. Stop arguing. Anyway, they're back,
in web-form
.
And why do I lust after
this $600 vacuum cleaner
?