Son of Catalog of Fun
The
catalog entries
continue. All real, all taken from the
Harriet Carter
catalog - with just a bit of revising.
Some women are content to give money to armed forces charities and some women are content to stick a yellow magnet on the back of their S.U.V. And then there are those that are truly patriotic. These country-loving few will wear our
Burka-Lite
until all of our soldiers return from the Middle East.
Everyone around you will be constantly reminded of the lack of flesh-baring fashions our boys suffer through, but the
Burka-Lite
still allows you to show off your new bangs and high-rise khakis! Available in Oil Black, Ayatollah White and Balls Blue.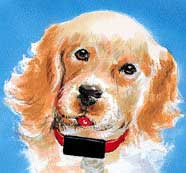 Woof! Woof! Is frisky Rover ruining your (and your neighbors!) peace with his incessant barking? Easily solve everyone's problem with our cruelty-free
"Woof-Out" Collar
.
The "Woof-Out" works with simple technology. When it senses your dog is barking, it vibrates slightly and then inserts three needles into your dog's neck - delivering a high dose of valium (we call it Barkum, ha ha!). Rover will be lucky if he can walk straight, let alone keep barking.
The birds are singing and the flowers are in bloom, it's picnic season! But won't your heart break when you hear this:
"
Mom! These strawberries have Lyme Disease!
"
"
Honey, my wiener has Malaria!
"
"
Gloria, these baked beans have the Yellow Jack!
"
Save yourself the embarrassment with this inexpensive
Food Malaria Tent
! With this simple (and fashionable!) device you can rest assured that you won't hear a word of complaint, and that you don't have West Nile in your buns!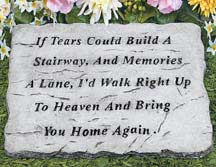 Fancy caskets, huge flower displays and ooky embalming fluid - our society has slowly desecrated the ancient rite of burial. Do yourself, and your loved ones an enormous favor and return to the time-honored tradition of backyard burials.
Naturally, a caring person like you will want to commemorate the interment with this fine
(Faux)
Stone Grave Marker
. If it's good enough for that guinea pig, isn't it good enough for Auntie Violet?
Alternate inscription Available:
If Anger Made A Bungee Cord,
And I Could Find The Right Crevasse,
I'd Jump Down Into Hell-fire
And Kick You In The Ass.