Everyone Old is Hot Again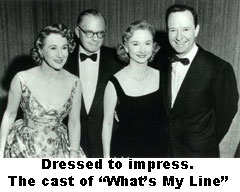 It's amazing what watching TV during the wee hours of the morning can do for you. Sure, there are plenty of infomercials to keep you entertained, but soon the forced attention of the studio audience will implore you to cry out for their freedom.
If you find yourself screaming at the
latest sandwich maker
, switch over to the
Game Show Network
. They broadcast some gems at 3 a.m. "
The Name's the Same
" and "
What's my Line?
", both from the 50's/early 60's, instantly whisk you back to an eariler time. Men are in tuxes and women are in ball gowns. The chat is fast, witty, and laugh-out-loud funny. I can't think of one modern game show that can claim the same (laughing at Vanna's outfits does not count). Except for a few mystery guests, the content has aged very well.
Some aspects of television haven't changed over time. Networks always used end credits to shove in more marketing. A recent repeat of "What's my Line?" featured two voice-overs talking about "Life with Luigi," a 50's CBS sitcom.
Also noted: Male stars that my generation only think of as "over-the-hill" were lookers back in the day. This doesn't apply strictly to old game shows (but hey there Joey Bishop, woo woo!). Take a look at
Dennis Hopper
(yeah, the crazy guy from
Blue Velvet
) and
Henry Fonda
(yeah, the old guy from
On Golden Pond
).
So kick back (formal dress optional), embrace your insomnia, and enjoy.
Your Cheese [a new feature of my blog shamelessly stolen from Happy and Blue 2, but he's Canadian so I'm sure he'll understand]:
What things take you back in time mentally? Other TV shows? Clothing? Design?