Water From Above (L.A. Part 4) Fin.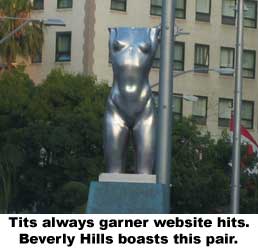 It's a good day to wrap up the wall-to-wall-to -shaking-wall coverage of my trip to L.A. I have a lot of pictures I'd still like to share, so I'll let them do most of the talking, and keep my comments to a minimum.
It was a great trip. Not only did I get to see my favorite sister in the whole world (OK, my only sister in the whole world), but I had the chance to experience a great city, some great weather and a lot of new and interesting people and places.
As I've said before, I'm not sure what I could have done in L.A. that I didn't do. We didn't go to any television show tapings, but Jay Leno makes me gag like a puppy experiencing new sod and almost all of the other shows are on hiatus for the summer.
The Rock
! Major movie star! I quickly snapped a picture of his wrist as he sped away in his huge, black, shiny car.
Alas, the next time we passed the car I realized my understandable mistake. It was a woman. The eyebrows threw me off.
This is the ceiling of my sister's loft apartment. How cool is that? I told her that they need to get a porch swing to hang from the rafters. Also, barn owls.