New Pope, Old Ideas?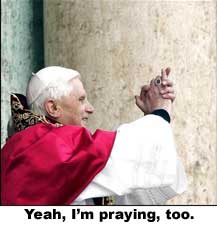 From
WashingtonPost.com
:
VATICAN CITY, April 19 -- Cardinal Joseph Ratzinger of Germany, long known as the chief guardian of Roman Catholic orthodoxy, was elected Tuesday to succeed Pope John Paul II. He took the name Pope Benedict XVI.
So far so good, right? New Pope, very exciting!
... the choice also prompted expressions of skepticism from some Catholics and others who view Ratzinger as a hard-liner on key social issues and fear he could be a divisive figure.
Uh oh. What's going on here?
During last year's U.S. presidential election campaign, he wrote a letter advising American bishops to deny communion to politicians supporting abortion rights -- a move criticized by supporters of Democratic presidential candidate John F. Kerry, a Catholic.
Whoa-hoo-hoo. This doesn't look good.
Ratzinger also cautioned Europe against admitting predominantly Muslim Turkey to the European Union on grounds that the continent is essentially Christian.
Whoa Nellie! When did that happen? I'm still amazed at times at the amount of information and news out of Europe that never reaches American shores. This is quite an announcement.
In his sermon Monday in St. Peter's, Ratzinger defended a conservative approach to faith.
This is not what I was hoping for. I understand that an institution that is over 2,000 years old takes its time when changing major ideals.
I also recognize that the election of Ratzinger - Pope Benedict XVI - will be seen my many, including myself, as a transitional pope. Ratzinger is in his late 70's, the oldest Pope in over three centuries - and much older than John Paul II when he became Pope.
It is already being reported that Catholics that have a more liberal approach to the church are very turned off by the new appointment - and I have to agree with them. Honestly, I have to agree when some say it is time for Vatican III reforms - the Catholic church is in need of a substantial change in orthodoxy, or else it faces a gradual extinction.
I can only hope that now that Ratzinger has ascended to the highest office of the Catholic faith he will be more understanding of the many needs of the church both in America and around the world.
It's something to pray for.
UPDATE (8:15PM): As always,
Gawker
sums this up easily:
Sorry, Gays: Pope Benedict XVI is in tha house.