Google Freaky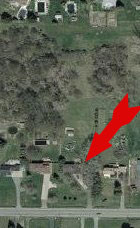 This is more than a bit disturbing.
The red arrow to the right points to the house I grew up in.
Look closely. Closer! You can see the three evergreen trees that were planted in the front yard, between the street and the house (look for three dark green dots). You can also, barely, see the round pool in the back and the shed that is on a slab of concrete in the backyard.
This satellite picture must have been taken during the winter. The trees on the right don't have many leaves and our pool, and the large rectangle pool next door are both covered for the cold weather.
The long driveway (part blacktop, part concrete - hence the color difference) leads out to the main road in front of the house.
There is a tiny car on that road, that could have been me - on a visit home - going to see my friend Lori. I get home as often as I can - it's great to see friends and family that I love so much.
But you can bet your butt next time I'm home, I'm going to be looking up.
Google Maps
- With the new Satellite Image option in the upper right hand corner.